Earlier this week, Facebook announced its purchase of Oculus VR, a fast growing virtual reality gaming startup, for $2 billion. The news was followed by accusations of selling out, fears of excessive data mining, and worries regarding the paths of future exciting startups. Countless techies, gamers, and startup enthusiasts flocked to the Internet to voice their displeasure with the deal, trashing Oculus VR founder Palmer Luckey on Twitter, YouTube, and (ironically) Facebook.
And thank God they did because now we've been blessed with some hilarious reactions and remarks. Below are 7 of the most entertaining commentaries about the Facebook-Oculus deal that range from witty observations to pure rage.  
1. Simpsons Did It
In The Simpsons' season 9 episode Bart Carny from 1998, Springfield children line up for a chance to play Yard Work Simulator, a virtual reality game complete with a headset very similar to the Oculus Rift head-mounted display. And thanks to some clever photoshopping, a still from that episode has been given a modern-day makeover to reflect the blockbuster Facebook deal.
2. Reddit User Who "Broke" the News a Month Ago Gains Prophet Status
Last month, Reddit user threewolfmtn posted the following:
His post was largely ignored. But when news broke about the Oculus acquisition by Facebook, threewolfmtn was declared The Chosen One.  
3. Jimmy Fallon Test Drives the Oculus Rift
4. Minecraft Creator Creeped out by Facebook
Swedish video game designer Markus Persson, best known for creating the wildly popular sandbox indie game Minecraft, didn't beat around the bush when it came to his feelings about Facebook.
5. Rage-Induced Stabbing of Oculus Rift
In a profanity-laden video uploaded to YouTube, user PyongGears3 stabs his Oculus Rift system repeatedly, leaving behind nothing but a pile of mangled plastic and parts. Take that Facebook!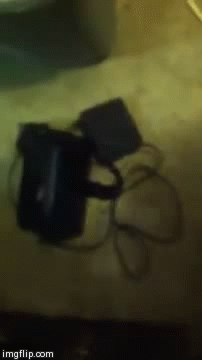 6. Fake Sony CEO Tells it Like it is
The Kaz Hirai parody Twitter account, which spoofs Sony's CEO, makes a good point.
7. Deal With It
This creative take on the Deal With It meme, which features a pair of pixelated 8-bit sunglasses lowering slowly onto to the eyes of someone rocking a hotshot pose, reminds us that Mark Zuckerberg can pretty much do whatever he wants, unlike us sorry plebes.
---
Be sure to follow us on Twitter and like us on Facebook to keep up to date with the latest in startups, tech, and business. 
---